FINE ART RESTORATION
In addition to traditional award-winning photographic restorations and original fine art paintings and portraits, Heirloom Art Studio provides archival cleaning and restoration of paintings on wood panel, glass, ceramic, canvas and canvas board. Other works of art can also be restored depending upon the materials.
PLEASE NOTE: WE DO NOT OFFER FINE ART APPRAISALS AND OFFER LIMITED PAPER RESTORATION ONLY.
Heirloom Art Studio will duplicate paper documents, prints, watercolour paintings, and drawings, and restore the duplicates to perfection, but may limit what can be done with an original painting on paper or original document to what owner, Kathryn Rutherford, determines is within her area of expertise and technical offerings. Paper restoration is an entirely different service than restoration of oil, acrylic, glass, watercolour, canvas, and wood panel paintings and we will do only what we are highly qualified to execute.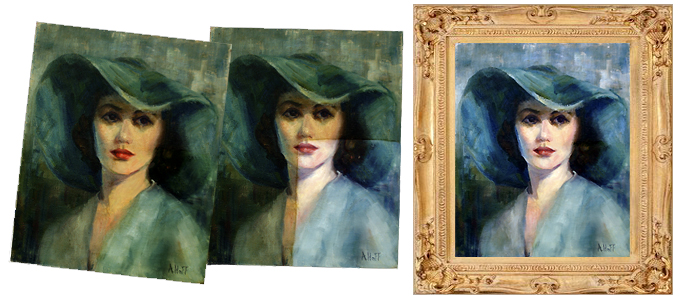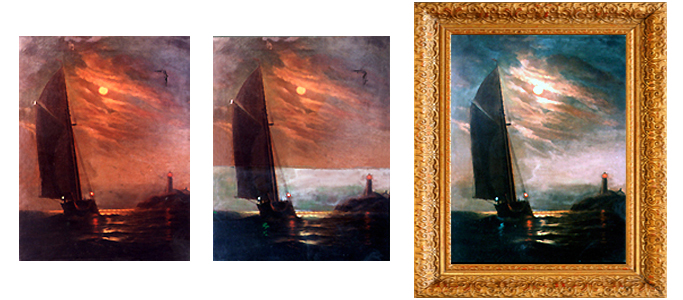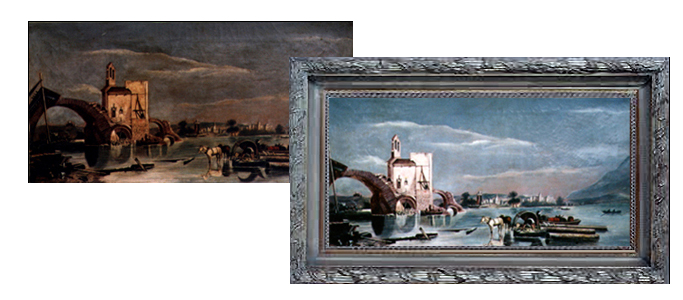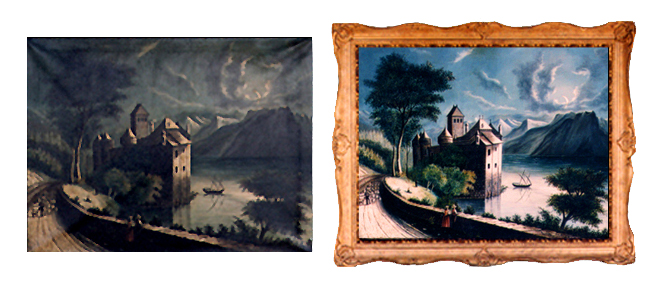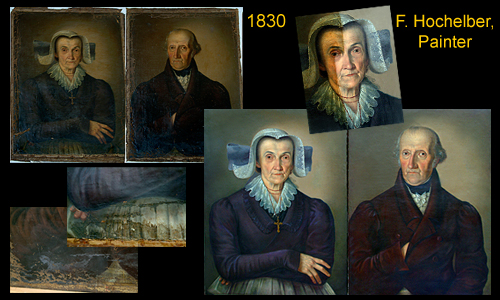 ONE OF THE MORE UNIQUE RESTORATION PROJECTS...
As the Patron Saint of the customer's home town in Italy, this St. Joseph statue, made in approximately 1883, was shipped from Italy to Canada when the family moved from one country to another. The statue, which stood almost three feet tall, had suffered various forms of damage both from handling over the years and as a result of shipping.
Damage was extensive and complicated. The infant Christ figure was broken completely away from the rock, his left hand was broken at the wrist and three fingers were either missing or broken off completely. Both of St. Joseph's feet were separating from the ground on which he stood. Replacement halos were made of coat hanger wire wrapped with aluminum foil. The crook (or staff) was missing the top rounded section and silk lilies were wired around the top of the remaining shaft. St. Joseph had no thumb on his right hand and no baby finger on his left. Various cracks, chips and broken sections were found throughout the statue and, due to changes in humidity and shipping between the two countries, the wooden base materials had begun to shift, swell and crack. The customer suggested using a hammer to knock the wood sections back into place, but, was convinced that this is never a recommended restoration procedure. The entire piece was covered in a layer of oily grime and dirt from years of neglect.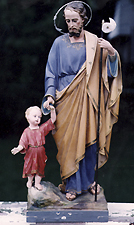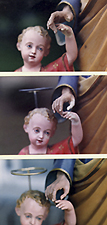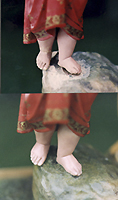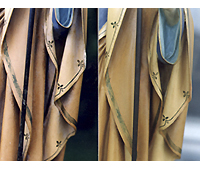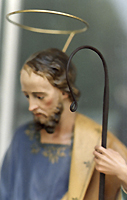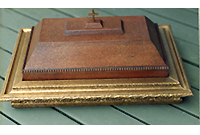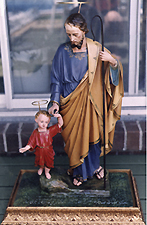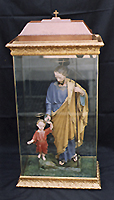 It was decided that the statue should be encased in glass so as to protect it for future generations. The customer requested that the base of the statue's misalignment be hidden instead of attempting to return the altered wood to its original position. In this manner, the statue could not only be permanently secured, so as to prevent it from ever being knocked over, but, the base could be widened to extend beyond the width of the shoulders giving the work better proportion and a more solid base.
Choosing an imported Italian picture frame moulding, an ornate base and lid were created while the task of creating the brass-wrapped, beveled glass walls was subcontracted to a local glass manufacturer. Upon completion of the work (which took nearly one year), the statue and it's case were delivered to the owner's newly built custom home.
A specially designed and lit niche had been added into the construction plans where the statue was permanently installed for family and friends to admire and worship.