PHOTOGRAPHIC RESTORATION and ALTERATION
Don't let your family history remain damaged, deteriorated, or disappear from view.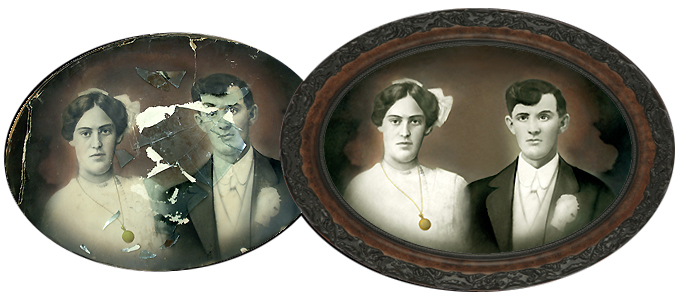 Never a charge for estimates-except inusurance claims.
YES, we wholesale all services to qualified businesses.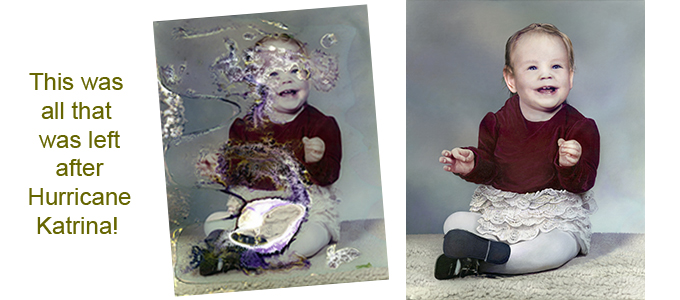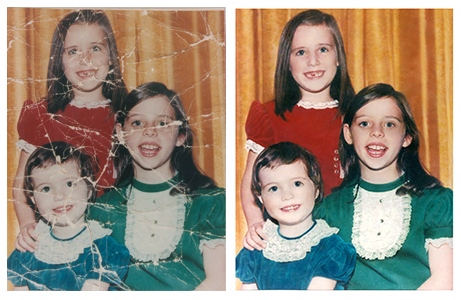 Heirloom Art Studio ships original paintings, portraits, and photographic and fine art restoration worldwide and owner, Kathryn Rutherford, considers it a privilege and honour to care for and preserve your priceless family collections entrusted to her expert and skilled hands. Kathryn will preserve your family history, turn your images into archival works of reproduction photography, create original portraits or fine art, or restore your painting and portrait collections. Heirloom Art Studio offers photographic conservation and restoration of original photographs, copy and duplication, special photographic processes developed by, and only available at, Heirloom Art Studio and uses both traditional historic and digital restoration methods.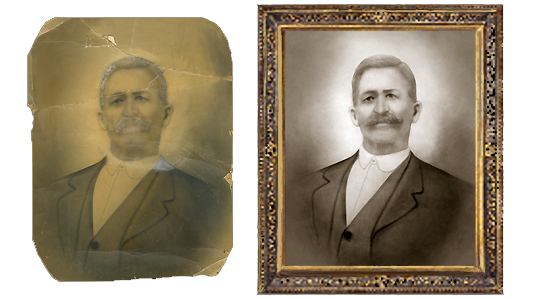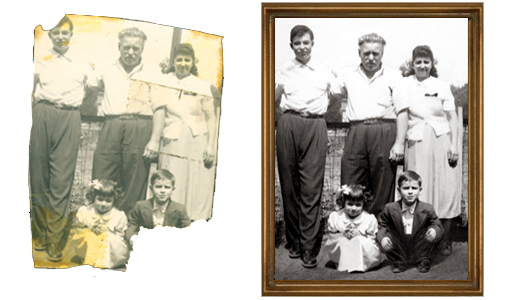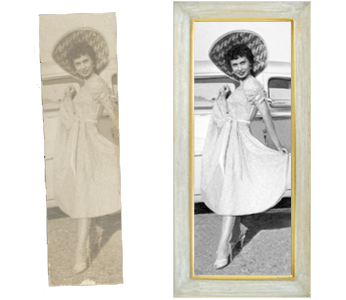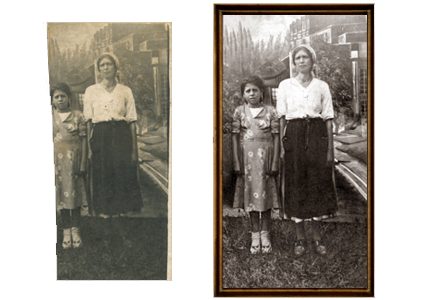 Kathryn Rutherford is a highly educated master fine artist and internationally recognized for her exceptional fine art and restoration skills by such companies as Eastman Kodak Company, Fujifilm Corporation, and Epcot Center, Florida. A Certified Retouch Artist in Ontario, Canada, she holds the Master Artist and Photographic Craftsman Degree as well as Lifetime Membership from the Professional Photographers of America. As well, she holds the Photographic Artist and Laurel Degrees from the American Photographic Artisans Guild.
Whether your needs are to repair and eliminate simple cracks and tears, water damage, and general acts of neglect of your collections or whether you need entirely new body parts and backgrounds you can be assured that as long as there is information to work with Kathryn Rutherford can rid, remove, or re-invent what is needed to create quality photographic restorations of your cherished heirlooms.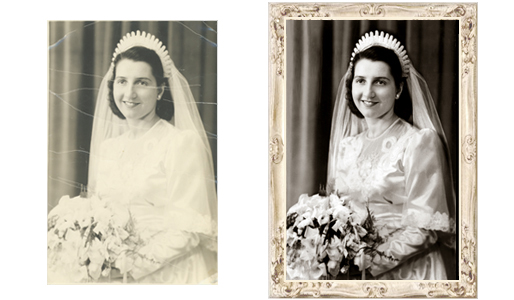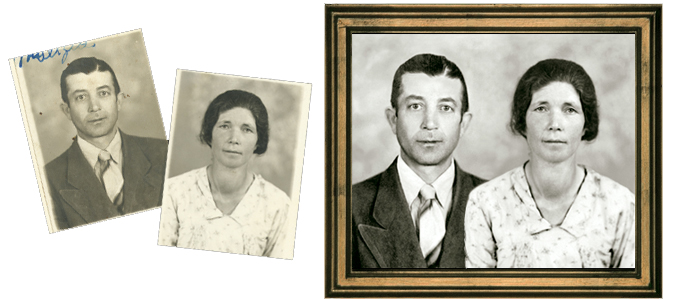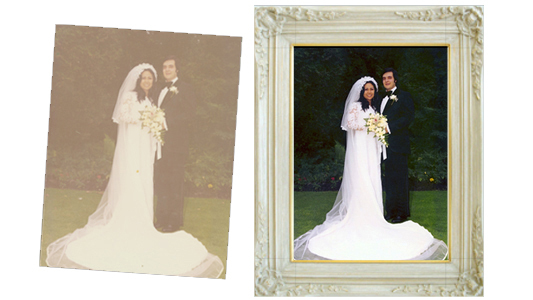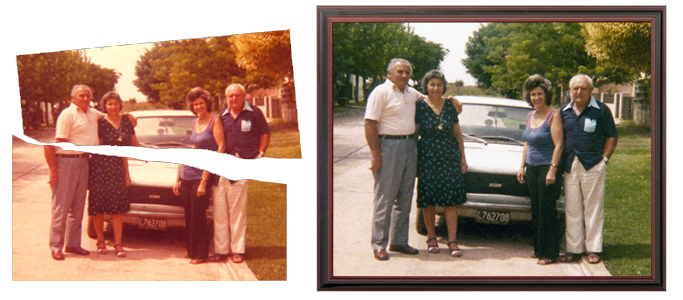 The Heirloom Art Studio still prints photographs in the darkroom, prints on fiber base papers, prints from negatives, slides, glass negatives, and transparencies, restores and preserves original photographs and fine art paintings and retouches, restores, copies and duplicates photographic images both digitally as well as using traditional historic restoration processes. Each reproduction photograph is printed on archival paper and balanced for maximum density, detail, and colour.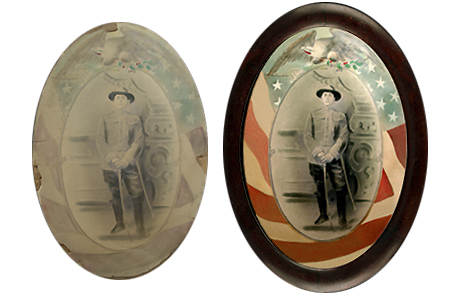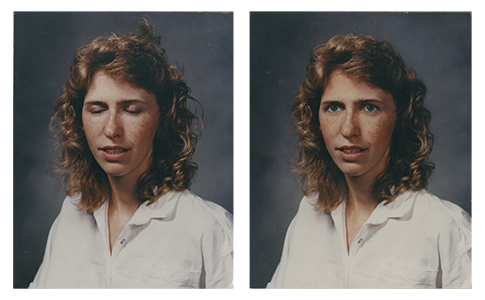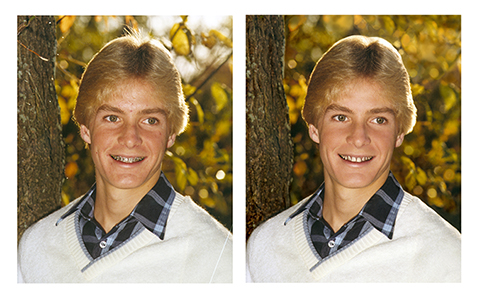 Whether you need to repair and restore your vintage original photographs and paintings using archival conservation methods that will preserve your family's genealogy and collections for generations to come, or you need retouching, alteration, restoration, and duplication of images for family viewing, sharing or special gift giving, Heirloom Art Studio is the place you can trust for expert skills, advice, education, and fine art and restoration services.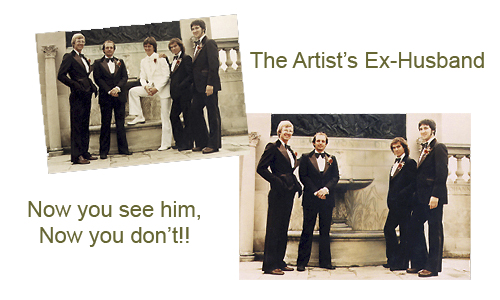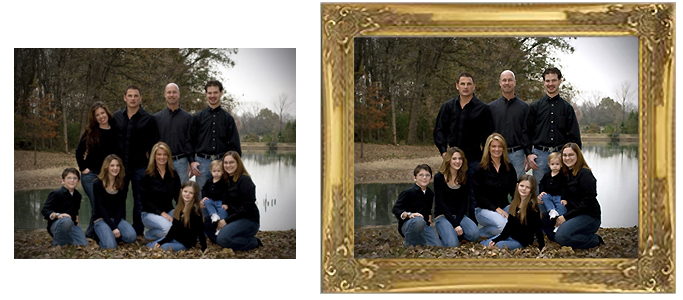 REMEMBER...when it becomes necessary to alter the photographic family history that can be done as well. The first example might be the elimination of Kathryn Rutherford's Ex-Husband but, Kathryn gives equal time to the removal of the ladies!
100% Satisfaction Guarantee that Kathryn Rutherford Fine Art and Heirloom Art Studio will meet, or exceed, your most heartfelt expectations, the needs of your family history, fine art and photographic collections, creative original fine art desires, and indulge you with superior personal attention and Customer Care.