SIMULATED TINTYPES

A Unique Heirloom Treasure or Gift!

An extraordinary way to produce a treasured heirloom photograph. Heirloom Art Studio will reproduce your photographic image on a simulated tintype in black and white or colour exactly as the photograph was taken or will remove the contemporary background and replace it with an historically accurate background from old photographs in the personal photographic collection of the artist, Kathryn Rutherford. Colour photographs can be enhanced with increased depth of field and contrasting black and white tones to give a simulated look of a photograph taken over one hundred years ago.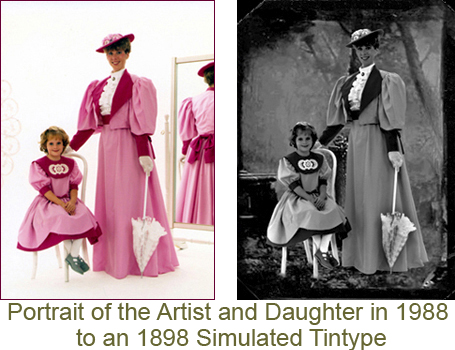 Great for photographic restoration, military re-enactors, stage actors,
period pieces, family histories, collectibles, and gift giving.
1980-2016 All Rights Reserved. No Image may be reproduced from this website in any form without written permission from the Heirloom Art Studio or the individual owner of each image.