EAST TENNESSEE
LAND, HOUSE, WORKSHOPS & COMMERCIAL
BUILDING FOR SALE
Greg and Kathryn Rutherford, owners of Heirloom Art Studio, Outstanding Expectations, Sword and Ivy, and Exclusive Custom Screenprinting are offering their East Tennessee home, commercial building and land for sale. The property is on the side of a mountain with a spectacular view of the Great Smoky Mountain National Park.
Located in peaceful and picturesque Wears Valley, their 3.22 acres is situated six miles from Pigeon Forge, close to Sevierville and Gatlinburg, and nine miles to Townsend with Maryville, Alcoa and Knoxville not far beyond.
Access to everything is not far away with several entrances to the National Park just a few miles up the road. The land faces the National Park with Cove Mountain taking prominence in the Valley.
PRICE INCLUDES THE FOLLOWING, but if you don't like the offerings curently on this property, tear it all down and build your dream house on the mountain top or your own business empire like that shown in any of the concept drawings at the bottom of this page that were prepared for a former real estate agent that listed the property.
PRICE INCLUDES THE FOLLOWING:
3.22 acres of land with approximately 420' of frontage on a major highway
1584 sq ft 3 bedroom (or 2 bedrooms and office) home with 10x13' hot tub deck
2024 sq ft, two storey, commercial retail/office building with 100sq ft screened-in covered deck and future deck construction
24'x36' sawmill wood garage on concrete slab with a metal roof
Under construction: 1400 sq ft two-storey building of workshops/storage/garage
Some initial excavating, stone patios, gardens, and landscaping has been completed
The property is accessible by State and County roads from both the top and bottom of the property. An asphalt and gravel driveway is completed one third of the way up the mountain from the highway to the top of the property.
There is no zoning in Wears Valley, however, one half acre of highway frontage is currently taxed commercial for business purposes. The rest of the acreage is taxed residential. Please note: there are two tax records and bills on this property!
The grade of the property is 100% buildable and there is enough acreage to subdivide the land into several blocks if so desired.
Make use of the offerings that are already here or consider a new development. This acreage and outstanding view could be a DEVELOPER'S DREAM or the perfect home and business location for someone else as it has been for the Rutherfords.
IMAGES AND DETAILS ARE FOUND BELOW
AND AT:
www.zillow.com
$550,000.00
Serious Inquiries ONLY please.
Contact: Greg and Kathryn Rutherford
2616/2620 Wears Valley Road
Sevierville, Tennessee
37862-8300
artist@heirloomartstudio.com
865-428-4900



VIEWS FROM THE TOP AND BOTTOM
OF THE PROPERTY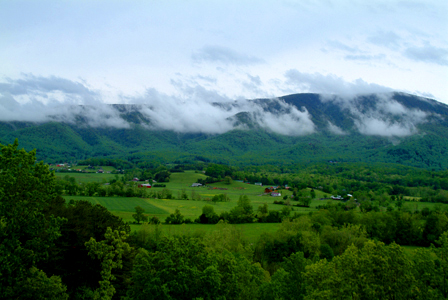 SPRING
SUMMER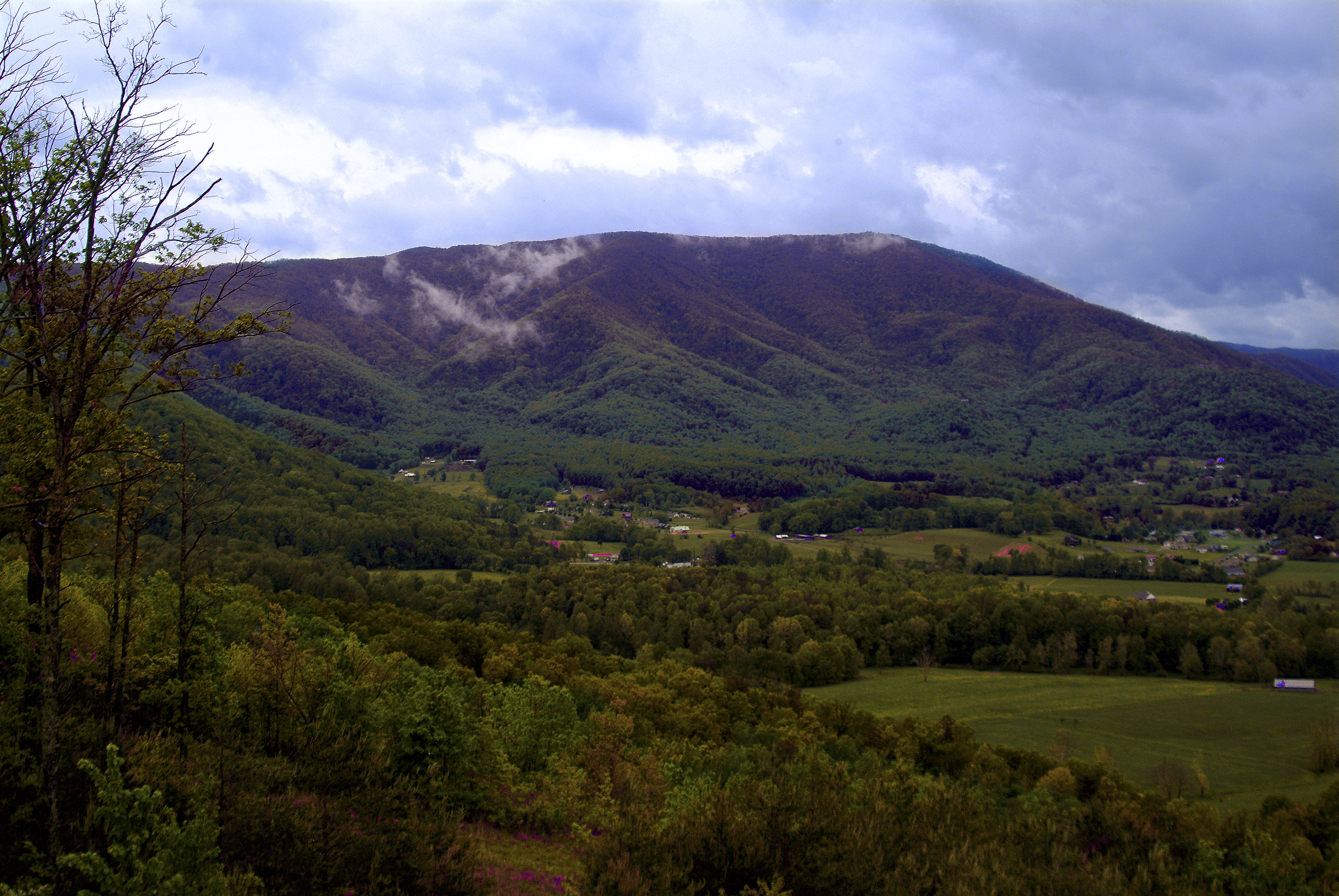 FALL
WINTER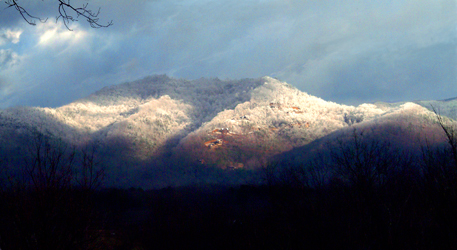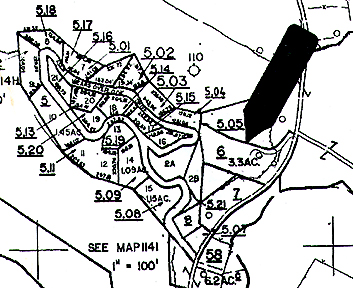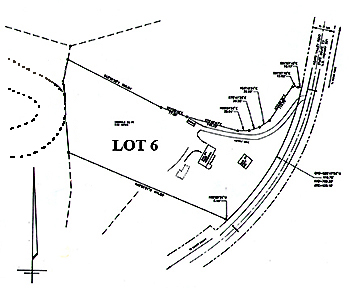 Lot 6
Legal Street Address: 2620 Wears Valley Road,
Sevierville, Tennessee 37862-8300
NOTE: There is only one deed on this property, but two tax bills. Zoning on this property is residential, but the front one-half acre is taxed commercial because a business is being operated on that portion of the land. The bottom half acre sits on Highway 321 and is considered prime commercial real estate therefore, is taxed commercial and has it's own 911 address.
If looking up tax records one must look up 2616 AND 2020 Wears Valley Road and add them together. Records make it appear that there are two properties for sale, each with different prices, but in order to purchase one must add both of these properties together. If you want to purchase then subdivide, that is possible, but this sale is all or nothing.

ALSO NOTE: Another section of the Foothills Parkway is scheduled to open in 2017. This Parkway exit will be just one mile down the road on Highway 321 and will drive traffic to Pigeon Forge, Sevierville, and Gatlinburg right in front of this property.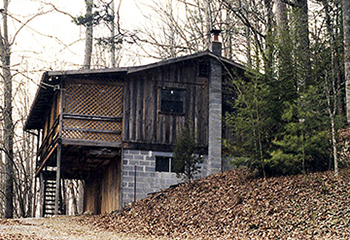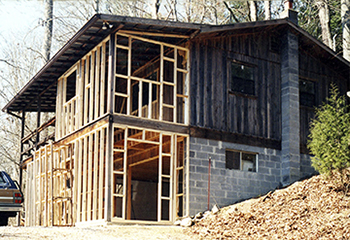 COMMERCIAL BUILDING - BEFORE AND AFTER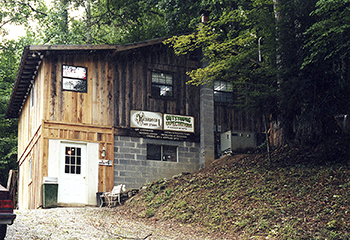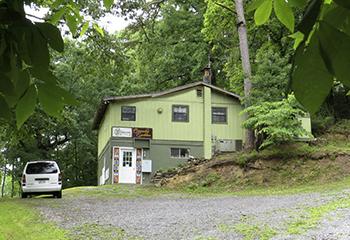 Exterior repainted-2015
When purchased in 1999, this building (originally built in 1983) was a small concrete block lower level that ended to the right of the current door and a rough sawmill wood upstairs level. The lower level was a storage area only. The upstairs was used to restore antique furniture. The entire building had only a 220watt wall heater connected to a fuse box and two single light bulb ceiling fixtures. The front section of the building (behind the lattice work) was an open porch with the staircase from one level to the other on the outside of the building.
This building was completely stripped and renovated in 2000. All new electrical wiring, breaker box, plumbing, water connections to the private well, water heater, TVA approved insulation in walls, floors, ceiling, and attic, and Trane dual zone heat pump for central heat and air was added.
A 3-Bedroom approved septic tank system was installed and a single 2-piece bathroom was put in upstairs. The septic system comes complete with exterior septic line cleanouts and interior accessibility to water lines to add a second bathroom on the lower level if desired.

The front of the building was framed enclosing the staircase inside the building and adding 480 square feet of additional space to the building. Headers were installed downstairs to remove the original front building wall and allow the downstairs to be completely open for retail space.
The upstairs was originally covered with rough sawmill wood on the floors, walls, and ceiling!! These boards were removed and used to close in the new additions so as to match the original building construction materials. The remainder of the rough Poplar sawmill wood was hand planed and laid as hardwood flooring both upstairs and down.

Interior walls were finished with drywall, slatboard, and wainscotting. The downstairs retail space was lined with carpeted storage cupboards and adjustable oak and glass shelving.

A back addition to the building was constructed in 2007, adding an additional 240 square feet to the upper level for more studio/office space. This area currently has an interior wall creating a darkroom for screenprinting. This wall could be removed or, since the area has plumbing and water, could be used for a second kitchen.
The 10'x10' covered and screened-in porch was added in 2009. It is just visible in photographs, at the back of the building, behind the short tree on the hill. A driveway leads to the porch and the upstairs studio entrance. Great for supply deliveries!

The roof is of metal and any of the new additions have a new metal roof on those areas.
LOWER LEVEL DETAILS
900 square feet (30'x30')
Concrete Block and Wood Construction
Concrete Slab with Hand Planed 1.5" Thick Poplar Plank Flooring
Drywall and Slat Board Walls with Wainscotting and Oak Trim
Built-in Storage Cabinets at Floor Level
White Ceiling Track Lighting
Well-efficient 40 gal Hot Water Heater
Solid wood steps leading to upstairs
Plumbing for second bathroom if desired
Wired for cable tv, internet, phone, and stereo speakers in all four corners of building

UPPER LEVEL DETAILS
240 square foot front room (8'x30')
660 square foot main room (22'x30') including a 2 piece bathroom with exhaust fan and 8'x14' darkroom or kitchen
240 square foot back room (10'x24') with 10'x10' darkroom or other room
10'x10' covered, screened and enclosed deck
Drywall and Slat Board Walls
Hand Planed 1.5" Thick Poplar Plank and/or MDS plywood flooring
White Ceiling Track Lights and 4' Flourescent Lighting
Wired for Cable TV, Phone, and Internet
NOTE:
NO PERSONAL PROPERTY GOES WITH THE SALE! This includes:
Glass & Wood Shelving, Wrought Iron Arch, Countertops & Display, Retail & Manufactured Merchandise or Supplies, Furniture, Equipment, Darkroom & Screenprinting Sinks, Spray Booth & Exhaust Fans, Appliances, or personal items.
WITH THIS SALE YOU GET: Ceiling Lights, Built-in Storage Cabinets, Hot Water Tank, Bathroom Toilet and Sink, Heat Pump, Floors, Walls, Ceilings, Doors, Windows and Roof.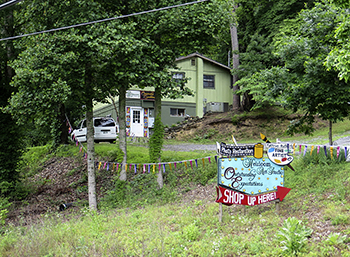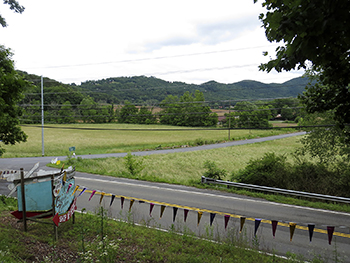 420 Feet of Highway Frontage--Hwy 321/Wears Valley Road
(Cross Street-Valley View Road)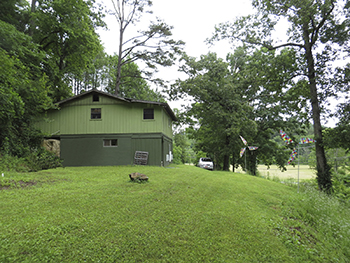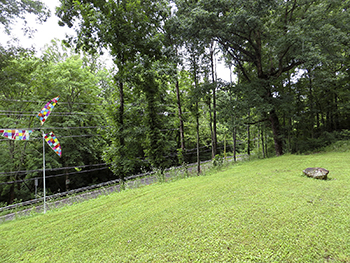 Room for expansion or event planning.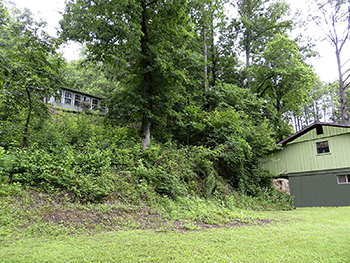 Live above, work below.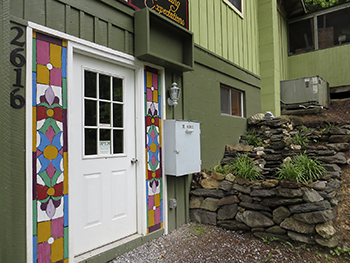 Working fountain outside lower main entrance.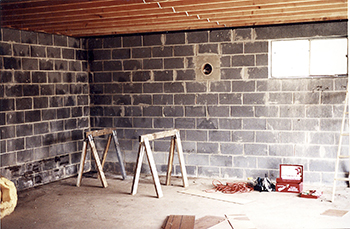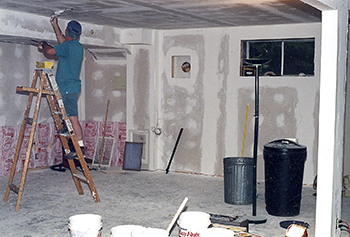 Original downstairs and work in progress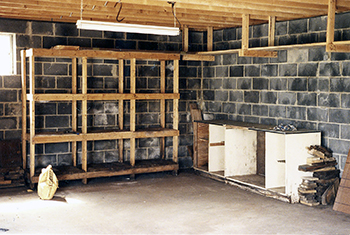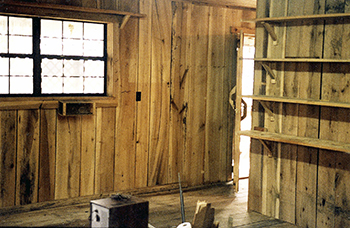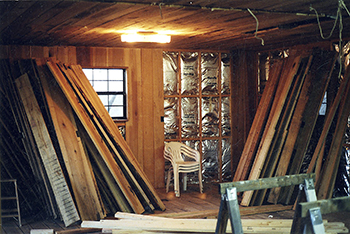 Original upstairs and finished renovation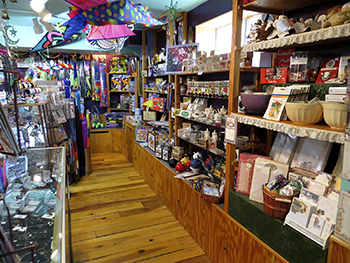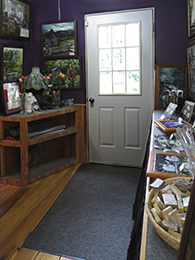 Downstairs Gallery/Retail/Office Space with
built-in storage and adjustable shelving.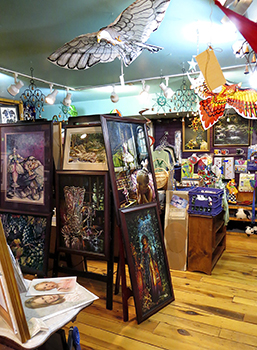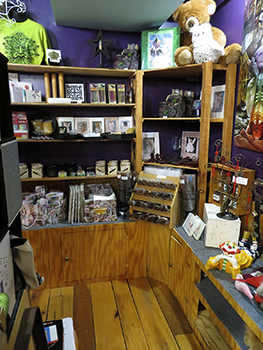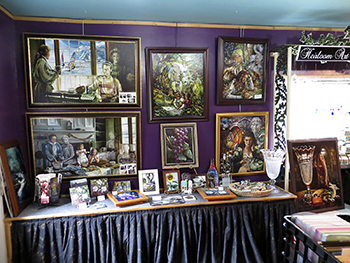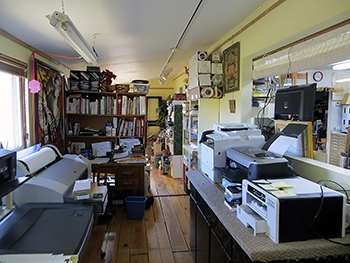 Office Space at top of stairs.
(Formerly the outside deck)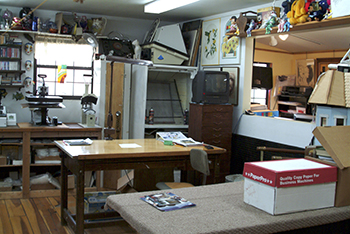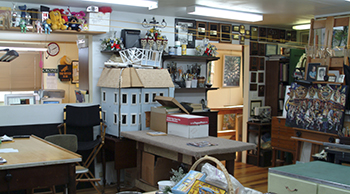 Studio 1 has half bath and 8'x14' Kitchen/Storage Area
with plumbing and water.
(Previously used as Photographic Darkroom)
Image below shows position of studio entrance, bathroom, and kitchen.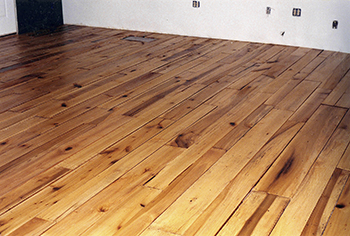 1.5" thick handplaned Poplar floors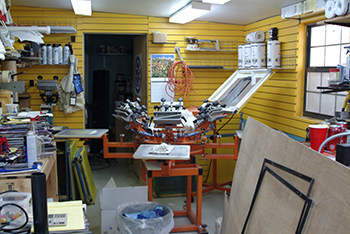 Studio 2 with false wall creating 10'x10' Photographic Darkroom
with plumbing and water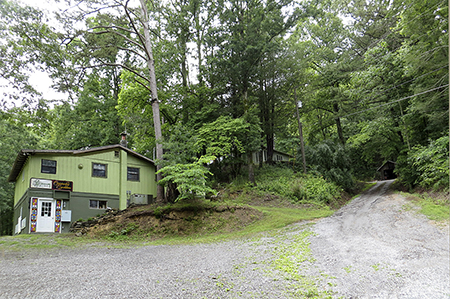 Leave the Commercial Building and head up the drive to the garage, the 3 Bedroom House, and further construction beyond.

Note the light blue electrical transformer in the trees above the house. On this pole there is also a large Security Light installed by Sevier County Electric which lights up much of this roadway and yard. This light operates dusk to dawn and costs approximately $12.00 per month to operate.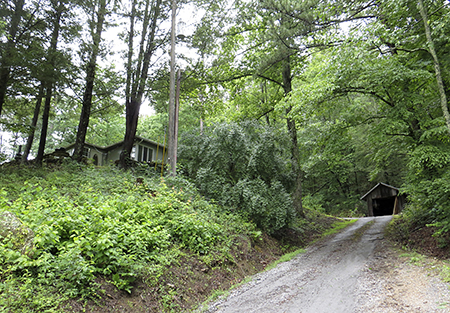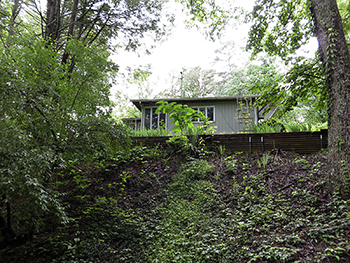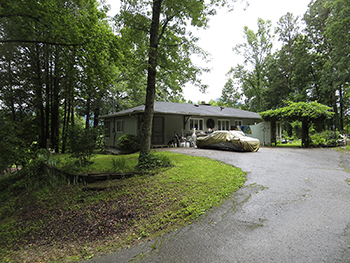 3 BEDROOM HOUSE (or 2 Bedroom + Office)
NEW ROOF--OCTOBER 2013
EXTERIOR REPAINTED--2016
New brick, concrete and stone patios, privacy fencing,
raised bed gardens, and arbors--Spring 2014
The house was originally built in 1960 as a two bedroom, 1056 square foot house with a single carport and attached storage room. A 1970's renovation closed in the carport creating a single car garage and added the storage room to the interior of the house through a doorway from the garage. Soon after, the garage was used as an exterior laundry room using the driveway asphalt as the floor and having a second locked door into the house accessible from inside the garage. This closed-in garage and storage area would be the left side of the house (right photo) or the right side of the left photo to the right of the front door.
In 2000, the home was gutted and completely renovated. The house had no heat, air, or lighting. It had only a fuse box, 220 heaters in each room, one electrical outlet in each room, and a heatilator in the working fireplace. The drywall on walls and ceilings was old and previously damaged. Great bones, but what a "fixer-upper".

The garage/laundry room and exterior storage area was finished out with insulated walls and floors that were installed and raised to match the floor level of the main house, thus adding more than 300 square feet to the interior of the house. The storage area created a third bedroom or office area accessible off the living/dining room. The former garage space was divided into a large pantry and a laundry room large enough to hold washer, dryer, the largest chest freezer ever made and space for a counter top with cupboards and storage area. Water lines were installed under the floor for future sink installation in this area and an access panel to the water lines was installed in the floor. The sink and cupboard units are not yet installed.
All electrical was updated with new wiring installed in half the house (part of it was good enough to keep) and new electrical panel box was installed.
White track lighting was installed in the pantry, laundry room and kitchen. New ceiling fans with lighting units were installed in the bedroom/office and throughout the newly added front sunroom which was originally just an exterior concrete front porch.
The front of the home had an 8'x30' covered concrete porch. This area was framed and closed in to add an additional 240 square feet of interior space. New windows, patio door and cut glass front door were added and Italian Ceramic Tile installed on the floor.
Currently, the thirteen foot original front window and French Doors separate the livingroom from the sunroom addition, but, the intention is to remove the windows and doors and open the space to a large open concept plan.
The front sunroom still needs to have the windows trimmed out and cove moulding installed. The walls are handpainted with a faux stone block design. Patio doors lead from the sunroom to an outdoor deck at one end of the house and a new deck at the front door that will wrap around the house to the back door is planned for future construction.
The corner floor-to-ceiling brick fireplace in the livingroom has a top of the line cast iron heatilator fireplace insert which was the only source of heat in the home at the time of purchase. In the event of a power outtage, this fireplace will (and does) heat the entire home.
A new dual motor Trane heat pump was installed along with new attic ducting for central heat and air. All crawl space and attic insulation was increased to meet TVA approved energy efficient standards.
Where dry wall was not replaced, each room was sanded down, removing five layers of overlapping vintage wallpaper, and the spackle texture on many of the ceilings was removed, or new drywall installed, for a fresh, updated look.
The original oak hardwood floors were sanded and refinished throughout the entire house.
The kitchen cabinets should be stripped or refaced if one does not like the "farmhouse" look, and the single bathroom requires additional renovation. These are the only two rooms that have not yet had a complete makeover as yet.
A small wood and concrete block shed was gutted and is in the process of being turned into a two storey studio/workshop/apartment building with attached concrete slab floor single car garage and workshop. This construction may, or may not, be completed by the time of sale. If not, the project sells with the property "as is".
Extensive excavating and landscaping was done to remove, and relocate, mountains and dirt to extend flat ground and yard surrounding the house and commercial building. Antique handmade brick, originally part of the Davy Crockett Schoolhouse Museum in Tennessee, was found on the property and origally used to create sidewalks and flooring in sheds. This brick was repurposed to create decorative garden and lawn edging throughout the property. Raised bed fruit and vegetable gardens were installed in 2014. Stone patios were created in front of the house on the edge of the mountain, another in the newly created yard with arbor and firepit surrounded by strawberry and raspberry gardens, and in the center of the yard for a two-person swing.
HOUSE AMENITIES
1584 square feet interior space
Refinished Oak Hardwood Flooring throughout the main house
240 square foot Front Sunroom with Ceramic Tile Flooring
Hand Painted Faux Tile and Stained Wood Flooring in Pantry and Laundry Room
2 Bedrooms with Closets-complete with new metal shelving and clothing rails
Additional Bedroom/Den/Office-no closet-with ceiling fan and light unit
Livingroom/Dining Room with corner wood fireplace and heatilator insert
1 Bathroom with Sink, Toilet, Shower in Tub
Eat-in Kitchen with White Ceiling Track Lighting
Energy efficient under the counter Water Heater-new elements
Black, White and Stainless Steel in-counter Range/Oven
Exhaust Hood with Light over Range
Black Dishwasher-3 years old
Washer/Dryer Hook-ups with water lines available for additional sink installation in laundry room
Private Well recently tested serving both the house and the commercial building
3 Bedroom Septic Tank
Phone, Cable TV and Internet Ready
BEFORES AND AFTERS
EXTERIOR AND LANDSCAPING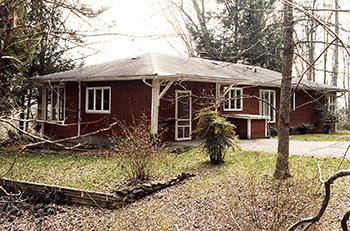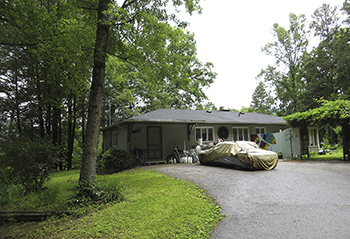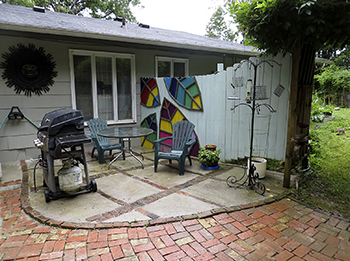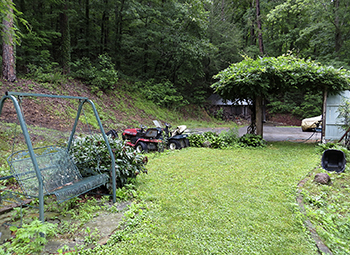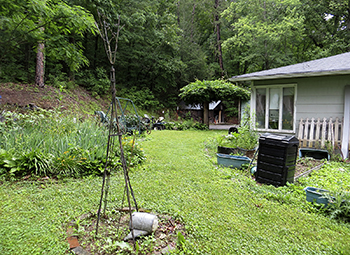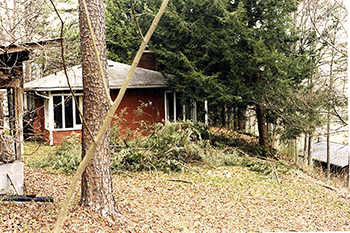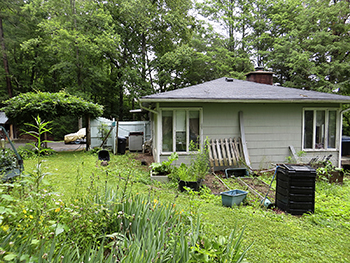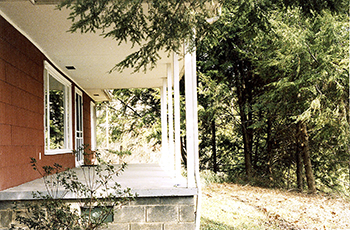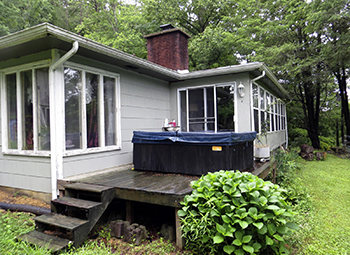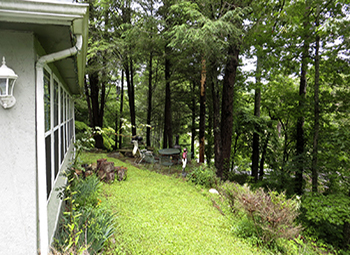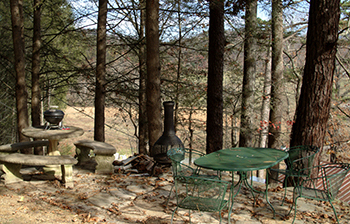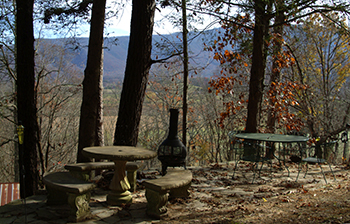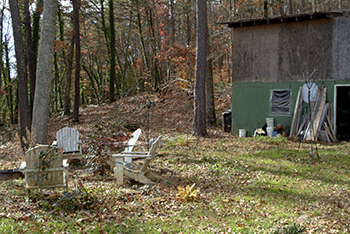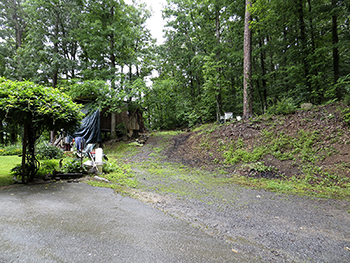 Incomplete Construction of Workshop/Studio/Garage Building.
Drive leads behind building and can extend up the mountain.
Firepit area now has stone patio, surrounded by
raspberry and strawberry patches, with flowering
vine arbor entrance.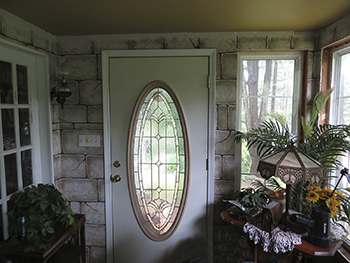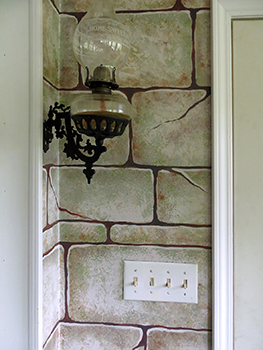 Handpainted Faux Stone Block Walls.
Front deck wrapping around house to back door--next construction project.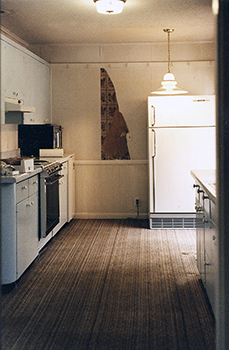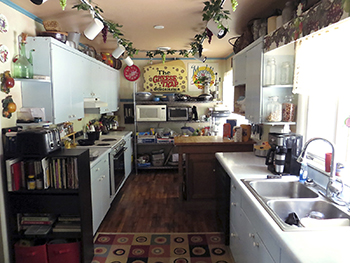 Eat-in Kitchen.
Note: Refridgerator is currently in the Pantry, but can be returned to the Kitchen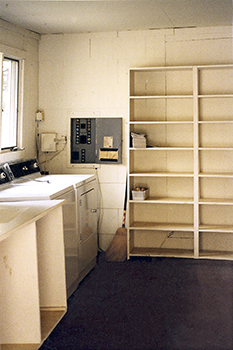 The original garage was added to the interior house space
and divided into a laundry room and pantry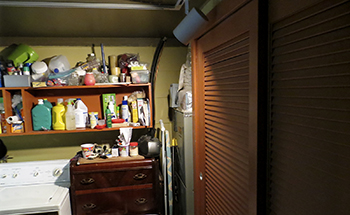 Double closet and lots of storage space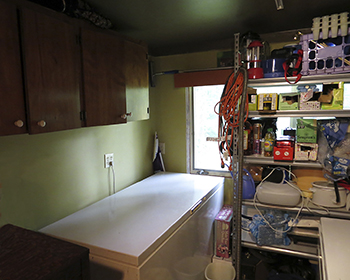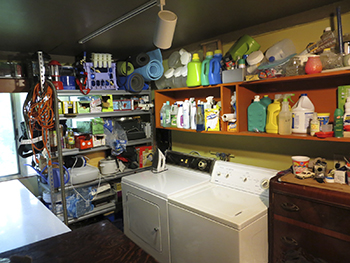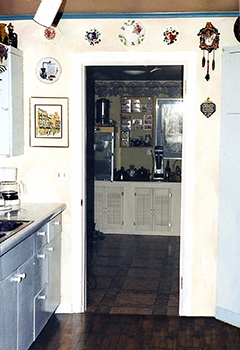 Pantry and laundry off the kitchen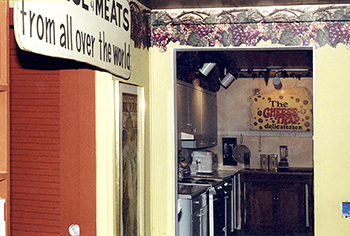 Handpainted faux tile flooring in the pantry and laundry room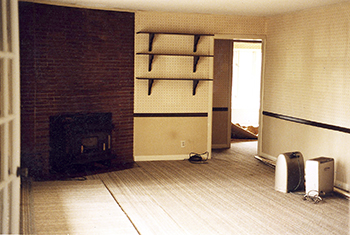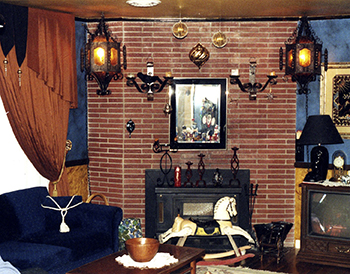 House had no heat or air, damaged walls and ceilings,
but original hardwood floors.
Top of the line Heatilator in working fireplace
will heat the entire house in the event of power outtage.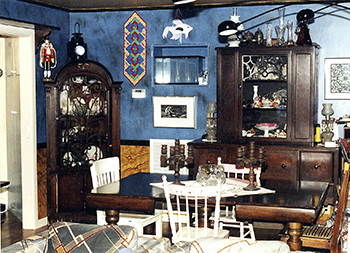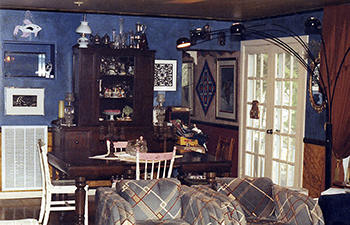 Kitchen to left---Library/Office/Bedroom and Sunroom to right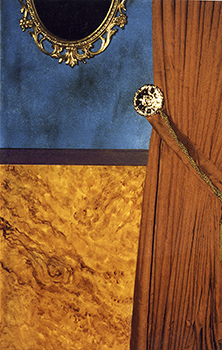 Reticulated gold leaf faux marbled walls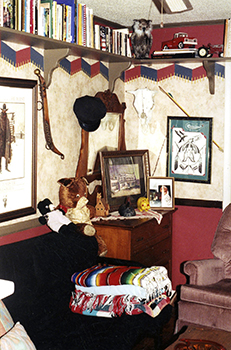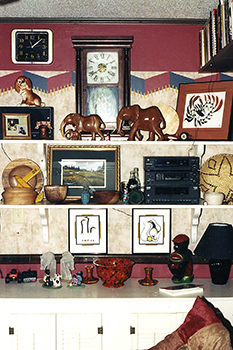 Library, Office or 3rd Bedroom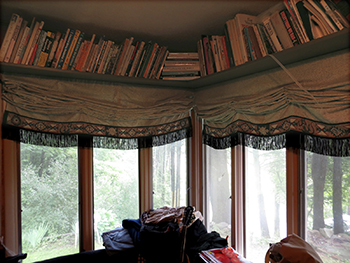 Each bedroom has six-window corner view!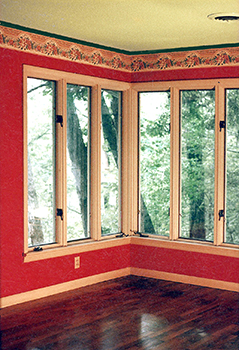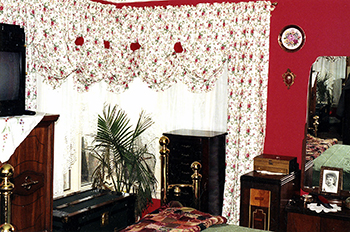 Master Bedroom with southern exposure view.
(Dead Cedar trees were removed.)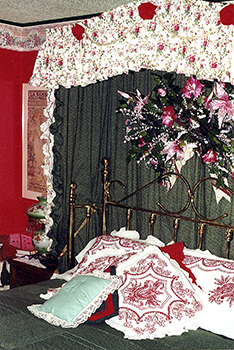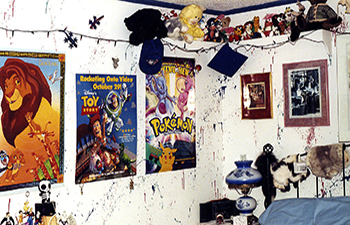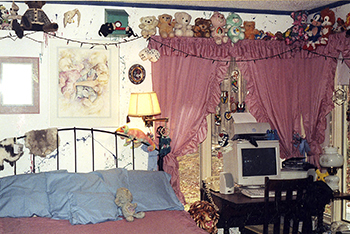 The Digital Animator's Bedroom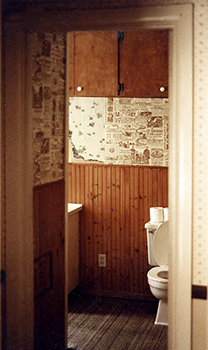 Bathroom partially renovated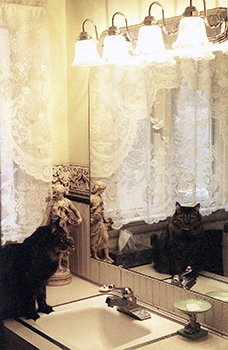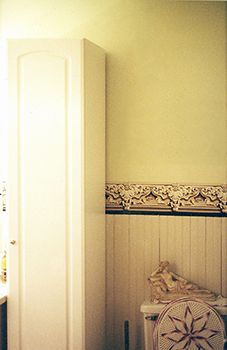 Incomplete Construction-Currently being worked on:

Concrete Slab & Block Foundation
Workshop and intended garage planned for Lower Level
1 Bedroom Apartment or more work space planned for Upper Level

NOTE:
NO CONTENTS IN THIS BUILDING GO WITH THE SALE

The property slopes gradually upward over the entire acreage. You can almost see the property line and top of the property where the sky meets the ground level.

View the survey maps above to see where the top of the property meets a County Road for top access to the property. The existing driveway could be extended up through the property depending upon the intended land/building use.


Single Car Garage

Concrete Slab Flooring
Sawmill Wood Construction
Metal Roof
Asphalt Driveway
Gravel Parking Space to the Left
(Under all the leaves and the delivery of rocks)

NOTE:
All Freestanding Shelving Units, Tables, Equipment & Belongings in this building
DO NOT GO WITH SALE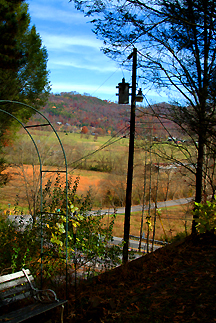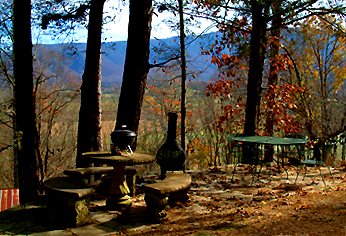 Rise every morning to face the eastern view (on the left) or spend a lazy evening relaxing on the stone patio looking out at the southern exposure of Cove Mountain.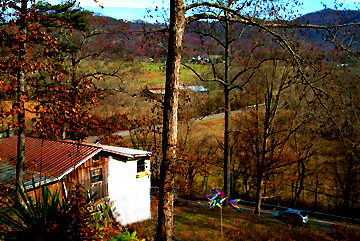 LET THE WORLD PASS YOU BY ON HIGHWAY 321 AS YOU LIVE, WORK AND ENJOY YOUR PICTURESQUE KINGDOM WHICH OVERLOOKS BEAUTIFUL WEARS VALLEY AND COVE MOUNTAIN WHICH IS LOCATED WITHIN THE PRISTINE BOUNDARY OF THE GREAT SMOKY MOUNTAINS NATIONAL PARK.
Make use of what is already here or tear it down and create something like the concept drawings shown below.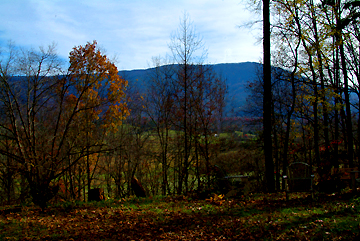 Call Today!!
865-428-4900
artist@heirloomartstudio.com
If you don't like what currently exists on the land, tear down existing structures and put up your own business empire or dream home. This 3.22 acres of gently sloping mountainside, located on a main highway, has access from the top and bottom of the mountain and unlimited possibilities for use as seen below in these concept drawings that were commissioned to be drawn for a client who had a vision for the property and wanted to submit these ideas to his architect.
1980-2016 All Rights Reserved. No Image may be reproduced from this website in any form without written permission from the Heirloom Art Studio or the individual owner of each image.